About The Slate Roof Experts
Joe Jenkins started working on slate roofs in Butler, Pennsylvania in 1968 at the age of 16 under the tutorship of Peter Odrey. He eventually graduated from college and attended graduate school. His book, The Slate Roof Bible, first published in 1997, sprang from the slate roof restoration trade he had developed over the years. Our other websites include our corporate web site (Joseph Jenkins Inc.), our Traditional Roofing Magazine web site, and Slate Roof Central- your source for everything related to slate roofing.
We started selling tools and other items related to slate roofing in the year 2000. It had been very difficult to find appropriate tools, materials and supplies for the slate roofing trade, but.eventually we tracked down sources and bought wholesale lots, selling to other contractors and to the public as a service to the industry, gradually expanding our product line to include many of the hard-to-find things needed for slate roofing. Today, our online store offers the most comprehensive line of slate roofing tools, supplies and materials available in the United States, although we do not sell the roofing slates themselves. Our customers can buy slates directly from our sources, either new slates or salvaged slates.
The office is managed by Galina Benek and Dawn Myers who answer the phone and fill orders.
As of 2015, Joseph Jenkins Inc. no longer provides contracting services. This is now handled by Brent Ulisky (UliskySlate.com), and Orion Jenkins (JenkinsSlateMasters.com).
Joseph Jenkins, Inc.
143 Forest lane, Grove City, PA 16127 USA
Ph: 814-786-9085; Fax: 814-786-8209; Email
How to Find Us:
We're located in western Pennsylvania about 29 miles east of the Ohio border (10 miles east of the intersection of I-80 and I-79), three minutes off Interstate 80 at exit 29 (Barkeyville, Route 8). Take Route 8 north at exit 29 about 1/2 mile to the first left turn (Gilmore Road), turn left onto Gilmore and go about one mile to the first left turn (Old Beech Road - everyone passes this turn, so look hard - don't expect to see a road sign for Old Beech. If you see a sign for Sterret Road on the right, turn left there). Turn left onto Old Beech and then go about 1/4 mile to the 3rd driveway on the right (Forest Lane). Turn right onto Forest Lane and you'll find us at the top of the hill. Click on the maps for larger versions: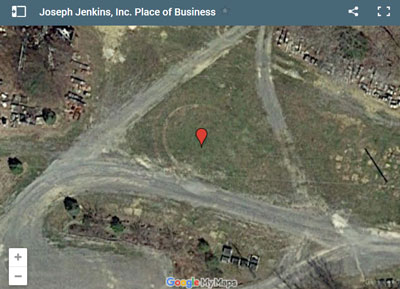 1) Joe on a consulting job, 2) Dawn (seated) and Galina in the office, 3) Brent Ulisky (UliskySlate.com) demonstrating a rounded slate valley installation, 4) Orion Jenkins (JenkinsSlateMasters.com) installing a slate roof, 5) one of our slate roof installations, 6) one of our slate roof restoration jobs.